Amongst adventure seekers and nature lovers who have visited Sandakan, the name "Uncle Tan" is near legendary
Since 1990, thousands have come to Uncle Tan's to experience the adventure, nature and wildlife in the lower Kinabatangan valley. Many of these visitors have become friends, and have returned for second, third..visits.
By word of mouth, these kind friends have helped us promote the Uncle Tan's Wildlife Camp so that others too can enjoy the adventure, wildlife and natural beauty of the Kinabatangan with us.
Our facilities and activities are all arranged such that our guests get involved and participate in enjoying and helping to conserve the Natural Environment. We do our best to employ locals, use transportation operated by locals and get our supplies from the local communities – thus part of what you spend goes directly into the local economy.
With this, we hope you will have an enjoyable time with us and will return home with a better understanding of our Natural Environment and the people in the region.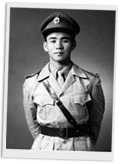 Uncle Tan Wildlife Adventures was founded by the late Uncle Tan.
His real name is Tan Su Lim also known as Sulaiman Tan but most people know him simply by the name "Uncle Tan". Uncle Tan started out in his early days as a cadet with the British Army.
He then went to study at the Teacher's Training College in Singapore and took the career as a teacher when he returned to Malaya. He married and settled in his hometown, Muar, a small district in the state of Johor in Peninsular Malaysia.
After teaching for a few years, Uncle Tan left to join a book publication company in Singapore where he serviced, among other places, the state of Sabah. It was during this time that he grew to be very attached to this East Malaysian state.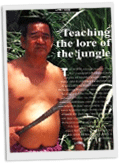 Subsequently, he left the company and set up his own bookshop. The venture failed. Uncle Tan left for Sabah.
Uncle Tan tried many things in Sabah. He was a noodle seller in a coffee shop, he ran a small restaurant.
He tried his luck as a small weeding and felling contractor, opened a provision shop, he reared chickens and pigs. He even gave English tuition and attempted to venture again in the book business. All of his early ventures in Sabah were short lived as he got tired of them.
In 1988, he converted his home to be able to take in a few travelers and started to take people to the jungle on a small scale operation. Soon, his popularity boomed. Today, Uncle Tan's Wildlife Adventures is still a small company but is well known internationally, particularly amongst backpackers, budget travellers and nature lovers.
As a person, Uncle Tan was a colourful character. He was a person who had a mind of his own. He spoke his mind without fear, especially where it concerns environmental issues. He was the chairman of the Environment Action Committee (EAC) Sandakan Branch.
He was a good writer, a good cook and most of all, a person who was more than willing to extend himself out as humanly as possible to others. He hated people who played god. He was a believer in the equality of mankind and made friends with people from all walks of life. He loved the outdoors and the wilderness.
Uncle Tan's life was a mix of all sorts of things. There were happy moments and also lots of troubled times – but one way or another his life was never dull. He had a colourful life.
What Others Say About Us...
"He [Uncle Tan] is something of a maverick in the business, with an unconventional approach, but there is no doubting his knowledge of the rainforest and the real value of his tour. The emphasis is in involvement and learning the ways of the jungle"
- Action Asia Magazine
"Uncle Tan is a local legend; he is a former higher-up at the predecessor to the KL New Straits Times, a longtime environmental activist, and an ex-geography teacher who counts three current Malaysian Cabinet members amongst his former pupils. He regales visitors with anecdotes, cooks up five fabulous meals every day, and draws an eclectic mix of (mostly western) travelers. His staff, drawn from local villages, is enthusiastic and helpful."
- Let's Go South East Asia, 1998
On the 13th of October 2002, Uncle Tan passed away suddenly. That morning he had gone to the market opposite where he stayed in Gum Gum which is also the Ops Base and Bed & Breakfast premise. When he returned from the market, he complained of chest pains and was rushed to hospital. On the way, he had a massive heart attack. Uncle Tan did not make it.
Those who have known Uncle Tan will remember him for his infectious passion for life, his adventurous spirit and his big, big heart. Sandakan will always remember him for his countless community projects, and as the man who brought tourism into Sandakan.
On the 8th of March 2003, after his death, the EAC recognized Uncle Tan's contribution to the environment conservation of Sabah
Uncle Tan is survived by five children – two sons and three daughters. Uncle Tan's children and family are continuing the operations to ensure that the legacy lives on, and that "Uncle Tan Wildlife Adventures" will continue to provide pleasure, knowledge and adventure to thousands of visitors from all corners of the world.
Together with an experienced and loyal team of staff, they will continue to provide the best of services and hospitality to visitors and friends, in the tradition of "Friendship & Adventure".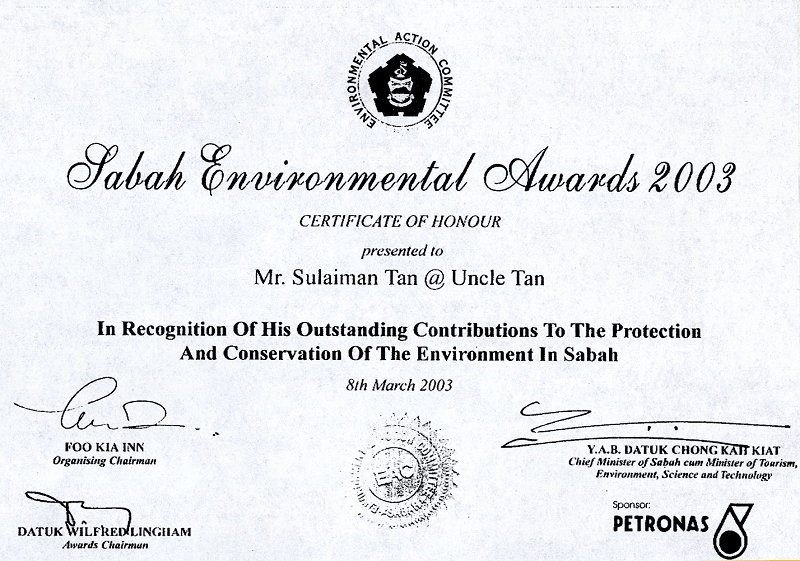 How it all began
In 1986 Uncle Tan started a restaurant near the Sandakan Airport. The people who work in the Government Offices at Mile 7 and the Forestry Headquarter often ate at his restaurant. Coming to eat at the Restaurant were also small groups of tourists brought in by some Kota Kinabalu based tour operators. Most of those tourists came into Sandakan on the first flight and left in the afternoon flight. They came just to see the Orang Utans at Sepilok.
Very often Uncle Tan had the chance to speak to the tourists. They all thought they should have more time in Sandakan . Not many tourists went to the Turtle Islands in those days as there were no boat service or tour companies in Sandakan then. Uncle Tan was the first to run regular trips to the Turtle Islands using our converted fishing trawler.
Among the Government employees who ate at his Restaurant were people who worked for the Wildlife Section of the Forestry Department and the Sabah Park Office in Sandakan. These people were often approached by tourists for information on the Turtle Islands and the Gomantong Caves. Those Government employees knew Uncle Tan had some experience in Tourism while working in Singapore and Johore.
They persuaded him to start some sort of a Guiding Service and take the tourists out to the Turtle Islands and the Gomantong Caves. Uncle Tan was the first to organise tours to the Turtle Islands and the Gomantong Caves. In 1987, Uncle Tan went full time as a Tour Guide and Out Fitter and later started a small Bed and Breakfast so that Tourists will have the chance to stay longer in Sandakan.
A brief chronological evolution of Uncle Tan's Jungle Camp
Uncle Tan's Bed & Breakfast; Uncle Tan takes first group of visitors to Kinabatangan - 1988
Uncle Tan's Wildlife Camp - 1990
Kiabau Cultural Village Home Stay - 1990
Pulau Libaran Home Stay - 1990
Tanjung Aru Home Stay - 1991
Kuamut Adventure Base - 1992
Pulau Libaran Retreat - 1992
Jambongan Home Stay - 1992
Trangkarason Home Stay - 1992
Uncle Tan's grew mainly by "WORD-OF-MOUTH" with our visitors telling their friends about us.
For our growth we must thank all those backpackers and budget travellers who told their friends about us, and also wrote to publishers of Travel Guide Books about us . We grew because of the backpackers and Budget travellers. We are grateful to them.
From the very start we had adhere very strictly to the Eco-Tourism Principles -
Responsible Travel with concern for

a) The Conservation of the Natural Environment.
b) The well-being of the local people.
See the Real Sabah with us.
"We were the first to start a Wildlife Camp in the Lower Kinabatangan area and we are still insistent on "Come and see us as we are" - we are not going to change just for the sake of earning some Tourists' spending." - Uncle Tan